What is a Hearing aid?
Hearing aids are marvelous and indispensable devices for the hearing challenged. They make it possible for us to fully participate in the social, cultural, and economic activities of our societies. Without them, our lives would be very different, certainly more constricted and limited. It helps by amplification of sounds. Once need arises, hearing aids should be fitted as early as possible.
Unlike in the past today we have digital hearing aids. These tiny tools are excellent multi-taskers'. They can simultaneously perform a variety of sound processing activities. In one such important function, the hearing aid quickly distinguishes between speech-sounds and noise. As such, the hearing aid amplifies speech while reducing noise. Multi channel hearing aids help in better programming and help better signal to noise ratio in noisy situations, making listening comfortable in noisy situations too.
When to fit one?
Pardon? When this question is asked frequently, that means it is time to acquire a hearing aid. Appx 20% of the general population needs the help of a hearing aid. Like Hypermetropia (Long sight) Presbycusis (Diminished hearing) is a natural aging process. Noise pollution accelerates the process.
The disability of the deaf is not overtly seen and hence the handicap is not readily appreciated. Patient and care givers have to make an extra effort to understand and help these individuals. [Link do you have a hearing handicap]
Can hearing aid help in all types of hearing loss?
Yes, definitely hearing instrument is a boon to hearing impaired. Hearing aids can help in all types of hearing loss. The degree of help rendered will vary from patient to patient, on the quality of fitting and the quality of the hearing aid. Only in central processing deficit an uncommon condition, hearing aids are of very little use. Remember Expectations have to be tempered. You can't suddenly put them on and hear as you did before. The brain has to adapt. A realistic expectation goes a long way in the hearing adaptation process.
Selecting a hearing aid centre:
Selecting a hearing aid is a major purchase and people can be lured into choosing one, which is overpriced and/or inappropriate. Therefore, it's important to know how to purchase the correct hearing aid for you.
One safe way to purchase a hearing aid is to choose a Hearing health care centre with a solid reputation in your community. Beware of people who come to your home or do not have a place of business you can walk into at any time. Many people have gotten burned when they look to have their hearing aids serviced, adjusted or repaired only to find the person is out of business, can't be found, or can't get back to you for weeks. For the same reason, procurement of hearing aid through Internet is not recommended.
Precaution: Cleaning of ears / Impression taking has to be done with meticulous care. Preferably select a centre with an ENT specialist too.
Quality vs. Cosmetic - What to Consider?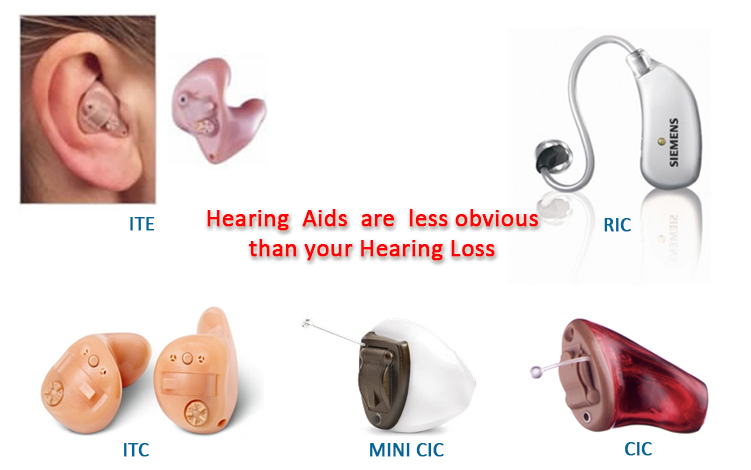 Majority of our patients give top priority to aesthetic appeal when selecting a hearing aid. Now cosmetic superior hearing aids to meet the aesthetic needs of the patients are available. The traditional Body type and BTE [Behind The Ear] hearing aids are now out of vogue. RIC [Receiver In Canal] hearing aids are replacing the BTEs.
In the Custom models, with wireless connectivity ITE [In The Ear] and ITC [In The Canal] hearing aids are taking a back seat. CIC [Completely In Canal] is preferred. Now IIC [Invisible In Canal] which are cosmetically even superior to CIC is available.
Cosmetic consideration does result in quality compromise. Hence when there is limitation in budget, we recommend, quality consideration should override cosmetic consideration. Kindly keep in mind for the same price, CIC hearing aid will offer lesser quality amplification than a RIC.
What should a hearing impaired / relative do?
This is a very difficult question to answer. Since it is a subjective need each individual in entitled to his views / opinion. The best for you is to analysis the various options of hearing health care centre's available to you and select the one you would be comfortable with. Believe in and cooperate with them and select you Aid.
At Shravan a person desirous of acquiring hearing aids is considered as a patient and hence we take an empathetic, patient centric totality approach to guide you to select a suitable product based on your fitting needs. Do peruse the products list and HA service prior to, which will be helpful.
Kindly complete the format to help us plan and guide your selection Download Form